EV Carshop are a one stop shop for electrification of business car fleets.
The Project
EV Carshop are electrification specialists who provide Electric Cars, Vans, Charging and 'Know How' to businesses motivated to electrify their fleets.
Their turnkey transition solution was engineered specifically for businesses. Firstly, identifying where electrification represents an immediate opportunity for cost reduction. And secondly, guiding organisations through the action steps needed to secure the multiple commercial advantages electrification can offer. A one source supplier, EV Carshop are well equipped to secure the right cars, vans and chargers for the organisations unique commercial use case, at the most competitive rates.
EV Carshop sought the support of OxFutures GreenFund Grant at a critical time in their development.
It was vital to us that in all areas, we preserve our impartiality and independence. With our processes, products and services built from the ground up and developed bespoke to the needs of our clients with an in depth understanding of the evolving mobility landscape. The early cash flow from the OxFutures GreenFund Grant allowed us to take the time to foster relationships and develop the technological toolkit necessary to help bring this vision to reality. Extending the impact of the financial support from our incredible early stage investors and accelerating us in our development

Holly Peters, EV Carshop
The early cash flow from OxFutures GreenFund Grant allowed the founders of EV Carshop, Holly and Emily, to take the time to foster relationships that helped bring their vision to reality. They were able to extend upon the impact of the financial support gained from incredibly early stage investors and allowed them to develop and test unique new in-house products and services bespoke to the needs of the EV driver.
Innovation
EV Carshop are evangelical about sharing the lessons they have learnt with other organisations motivated to electrify their fleets and we look forward to seeing them lead the way setting new standards in best practice electric vehicle adoption.
The project are also getting involved in the wider OxFutures newtwork. Petrospot Ltd is an independent publishing, training and events organisation focused on the maritime, energy and transportation industries. They are also receiving OxFutures funding to install two 22kw EV charging points, which will be installed by EV Carshop.
OxFutures has continued to offer the EV Carshop team support throughout this immense period of growth for the organisation.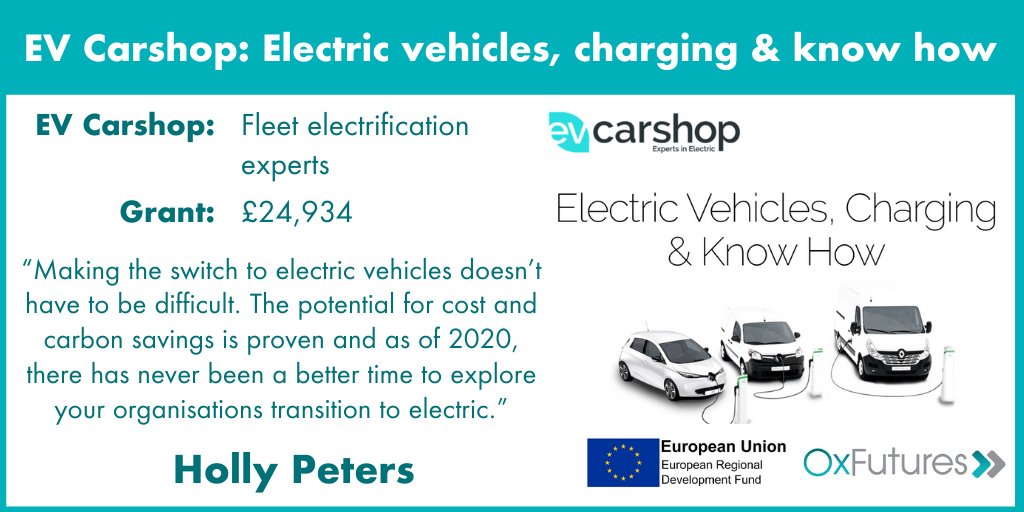 Give the OxFutures team a call today on 01865 246009, or visit our energy audit page to see how you can save money and energy with a free energy audit and grant funding.