Despite not being able to conduct in-person events at the moment there is a whole host of events happening online. Check them out below!
July

Venture Summit \ Virtual Connect Global featuring a dedicated Cleantech track I 6-8/07/2021
Online event
Whether you're a Cleantech startup seeking capital and exposure, or an investor seeking new deals, Venture Summit \ Virtual Connect [Global] presented by youngStartup Ventures – is the event of the year you won't want to miss. Featuring a dedicated Cleantech Track.
A highly productive venture conference, this exclusive program is dedicated to showcasing early stage VCs, Corporate VCs and angel investors committed to funding venture backed, emerging and early stage Cleantech companies as well as showcasing over 100 Top Innovators.
---
Responsible Consumption and Production I 08/07/2021, 11am
Online webinar
Join Cambridge Cleantech and Oxfordshire Greentech for our first event in the Climate Action 2021 series, in partnership with Cheeky Panda.
In this quarter we will take on SDG 12: Responsible Consumption and Production.
Join our event to learn from expert speakers on the challenges and opportunities of the 12th Sustainable Development Goal: Responsible Consumption and Production. In this event you will learn from academics who will explain what is the meaning and goals of the 12th SDG, followed by a showcase of innovative solutions.
You will learn about the different innovative solutions to ensure sustainable consumption and production patterns. The event will also include a live Q&A and a networking session for you to meet the speakers
---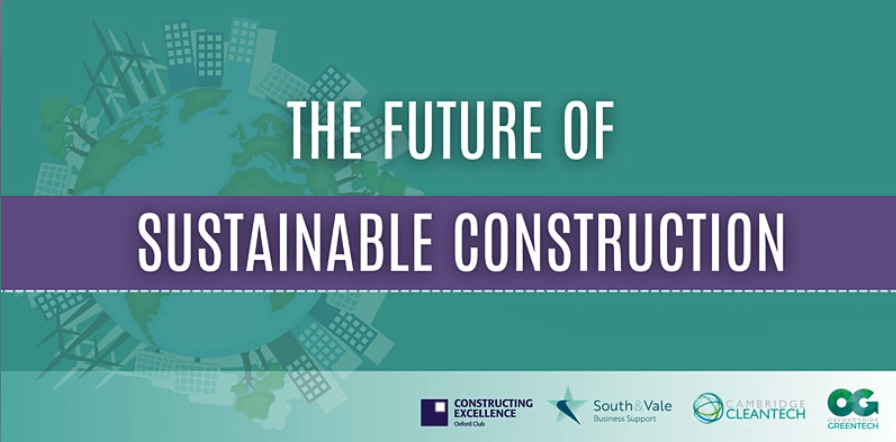 The future of sustainable construction: case studies from South and Vale I 14/07/2021, 12:30pm
Online webinar
With massive resource use and pollution production, can construction ever be sustainable?
Construction is the cause of 50% of the world's green house gas emissions, 23% of global air pollution and 50% of landfill waste. With issues around the energy use, material choice and waste created in construction itself and the emissions arising from the operational use of buildings and homes, there is an urgent need for new construction practices that don't cost the earth.
Join Oxfordshire Greentech and Cambridge Cleantech, in association with Constructing Excellence Oxford Club and South Oxfordshire and Vale of White Horse District Councils, to hear about the current situation and future prospects of sustainable construction.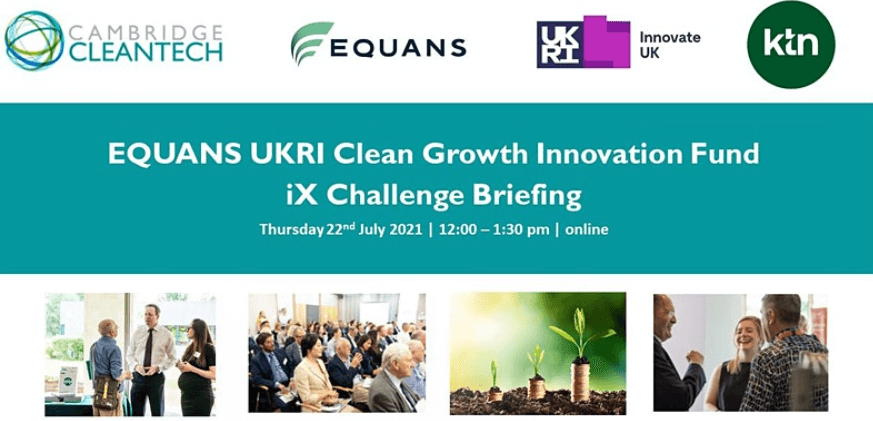 EQUANS UKRI Clean Growth Innovation Fund iX Challenge Briefing I 22nd July 2021 | 12:00 – 13:30
Online networking event
EQUANS, part of the ENGIE Group, is a new €12 billion global leader of 74,000 experts present in 17 countries – helping businesses and communities deliver the energy, digital and industrial transitions.
EQUANS and Innovate UK have partnered to establish the Clean Growth Innovation Fund, £2m grant from Innovate UK's Investment Accelerator Programme and £2m equity investment from EQUANS.
The fund aims to help accelerate the UK's Clean Growth Strategy and EQUANS ambition to be the global leader in the Zero Carbon Transition.
This is a great opportunity for UK-based SMES to apply for £0.1m to £1.2m in Funding to finance innovative R&D projects with the support and expertise of EQUANS and Innovate UK.
Come and join us to have a better understanding of the key challenges, how to apply and the benefits of strategic partnering and accessing finances with the support of a large corporate.
---