Volunteer organisation, Shed Oxford, received a grant from GreenFund to improve the energy efficiency of their community workshop.
Access to a disused tractor shed at The Abbey has granted us a great opportunity to create a new on-site, well-appointed workshop space. As our south facing wall doesn't have windows, being able to pre-warm the Shed with passive, solar gain from the greenhouse means we don't freeze on winter mornings. And we burn less wood. Result!

Linda
Secretary, Shed Oxford
The Project
Shed Oxford are a volunteer organisation set up to encourage people, young and old, to practice wood and metal working and pass on knowledge through craft skill sharing.
Now based at The Abbey Sutton Courtenay, the Shed team have created a community workshop from an old tractor shed and repaired a dilapidated adjoining greenhouse to provide a solar heat source for the workshop.
They applied to the OxFutures project and received a small grant and, along with matched funding from The Abbey, the Shed members have renewed all the woodwork and polycarbonate to vastly improve the greenhouse, making it more durable and able to retain heat.
Guttering has been fixed and rainwater harvest installed from the new roof for irrigation of tender food crops which will be incorporated into the Abbey's guest menu.
From their own funding they have also installed a wood burner and insulation from donated materials and they have upgraded the lights to LEDs.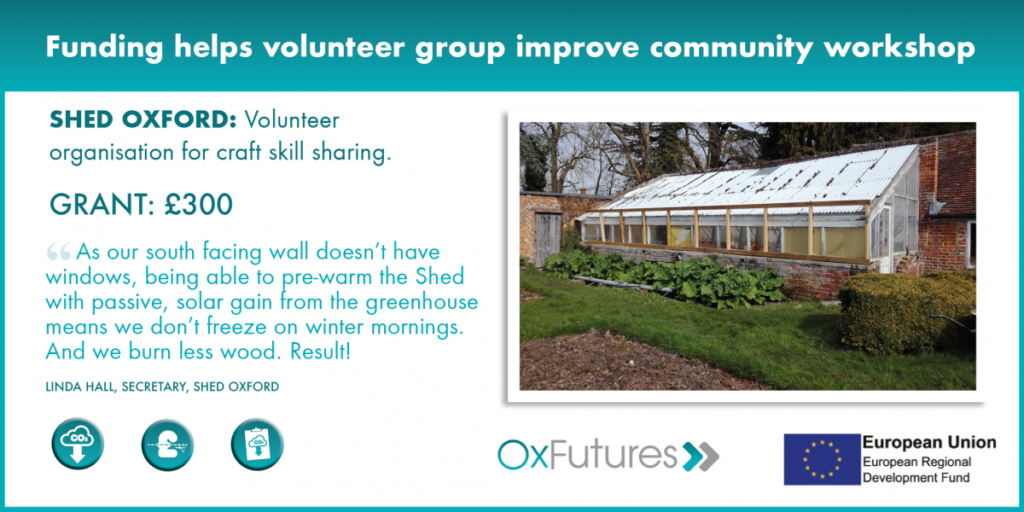 Give the OxFutures team a call today on 01865 246009, or visit our energy audit page to see how you can save money and energy with a free energy audit and grant funding.