Myles Allen Confirmed as Keynote Speaker for OxFutures Conference
OxFutures is pleased to announce that Professor Myles Allen will be giving the keynote speech at the annual OxFutures Conference on Friday, September 27th at the Oxford Town Hall.
Professor Allen is Professor of Geosystem Science in the Environmental Change Institute, School of Geography and the Environment and Department of Physics, University of Oxford, and Director of the Oxford Martin Programme on Climate Pollutants. His research focuses on how human and natural influences on climate contribute to observed climate change and risks of extreme weather and in quantifying their implications for long-range climate forecasts.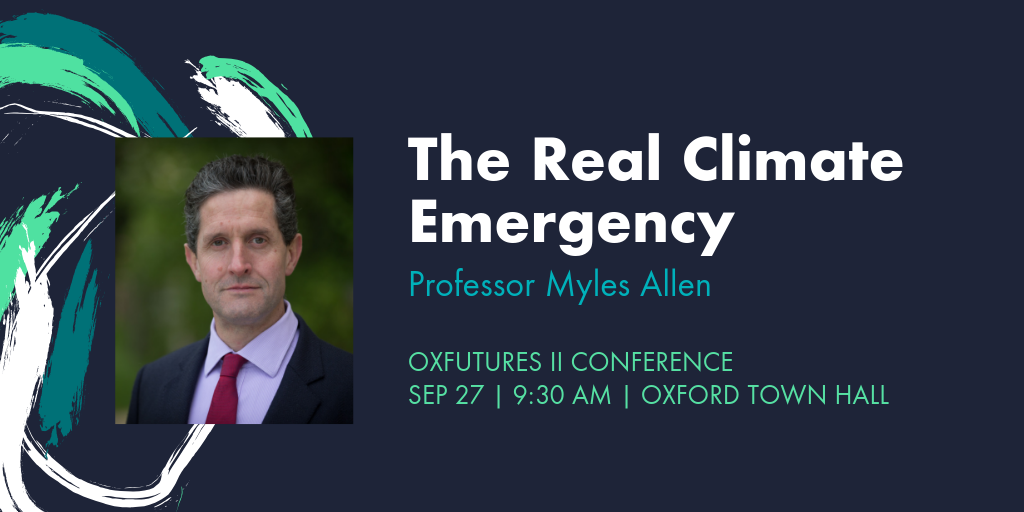 He was a Coordinating Lead Author on the Intergovernmental Panel on Climate Change Special Report on 1.5 degrees, having previously served on the IPCC's 3rd, 4th and 5th Assessments and leads the www.climateprediction.net project, using distributed computing to run the world's largest ensemble climate modelling experiments.
Oxfordshire is nationally at the forefront of the low carbon energy transition and its businesses are playing a leading role. Speakers at the conference will explain how this is being achieved and what exciting developments are coming next. We'll also hear from SMEs who are embarking on some innovative projects in the low carbon space and those making their contribution to lowering energy demand by installing energy-saving measures.
Professor Allen's talk, "The Real Climate Emergency" will speak to the urgency of climate change and the measures that individuals and communities can be taking to combat climate change. Joining Professor Allen at the conference will be Low Carbon Hub CEO, Dr. Barbara Hammond MBE, Nicole Lazarus (Bioregional), Cllr Tom Hayes and many more!
This is a free event is for anyone involved in a SME in Oxfordshire plus anyone interested in the low carbon economy. For more information and to register for your free place visit Eventbrite.