Greentech annual conference success
At a post-COP26 conference we heard how Oxfordshire is taking pioneering action and delivering a much-needed zero-carbon economy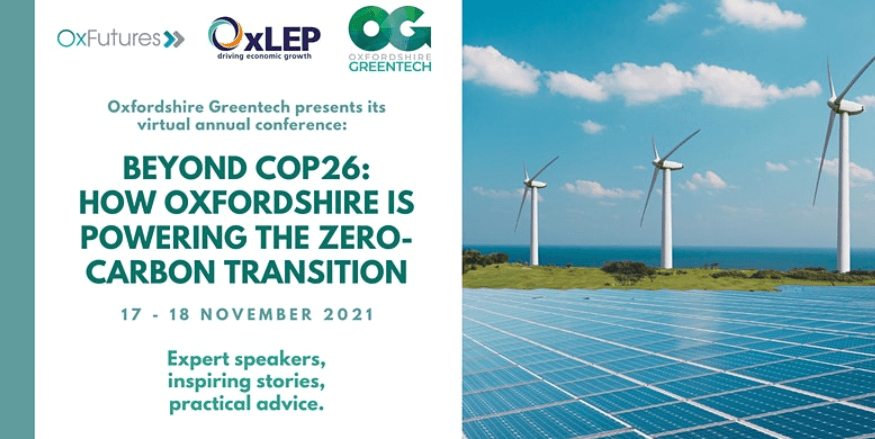 On 17 & 18 November the annual Oxfordshire Greentech conference took place online and at a networking session at Oxford Town Hall.
Online Conference
The conference was comprised of two online morning sessions with speaker presentations, discussion panels, and virtual networking sessions. Networking took place on Zoom with breakout rooms that attendees could choose to freely move between, enabling everyone to meet a range of people… and collaborators!
DAY 1 themes
What COP26 means nationally and at the Oxfordshire-level
Oxfordshire's low-carbon economy – the business case for low-carbon transition
Collaboration is key – the Zero Carbon Oxford Partnership
Energy Superhub Oxford – a national demonstrator for clean growth
Oxfordshire Greentech, the county's low-carbon business network – powering forward and future plans
DAY 2 themes
How Oxfordshire County Council is enabling a low-carbon future
Sharing great ideas – the OxCamb Knowledge Arc
Oxfordshire's sustainable building boom
Accessing green finance
Circular economy
The road to zero – practical advice for businesses
It was wonderful to hear from great speakers including OxLEP, ESOxford, Oxford City Council, Low Carbon Hub, and Michael Obersteiner (ECI, University of Oxford).
Networking session
It was great to see such a packed Town Hall on Wednesday evening for the in-person networking session as part of the conference. There was a feeling of excitement in the air to be back to an in-person event after so much time spent on Zoom and it was wonderful to reconnect with people, many of whom hadn't seen each other since the OxFutures conference at the Town Hall over two years ago!
The event brought together businesses, local authorities, and entrepreneurs who represent some of the brilliant minds in the county all wanting to do more and work harder to tackle the climate crisis.
We heard from some great speakers on the panel who were all winners of the Energy Pathfinders: 2050 (EP: 50) competition. The competition follows the publication of the county's Energy Strategy in November 2019 and reflects the importance being placed on innovation by the UK government, especially hosting COP26 in November.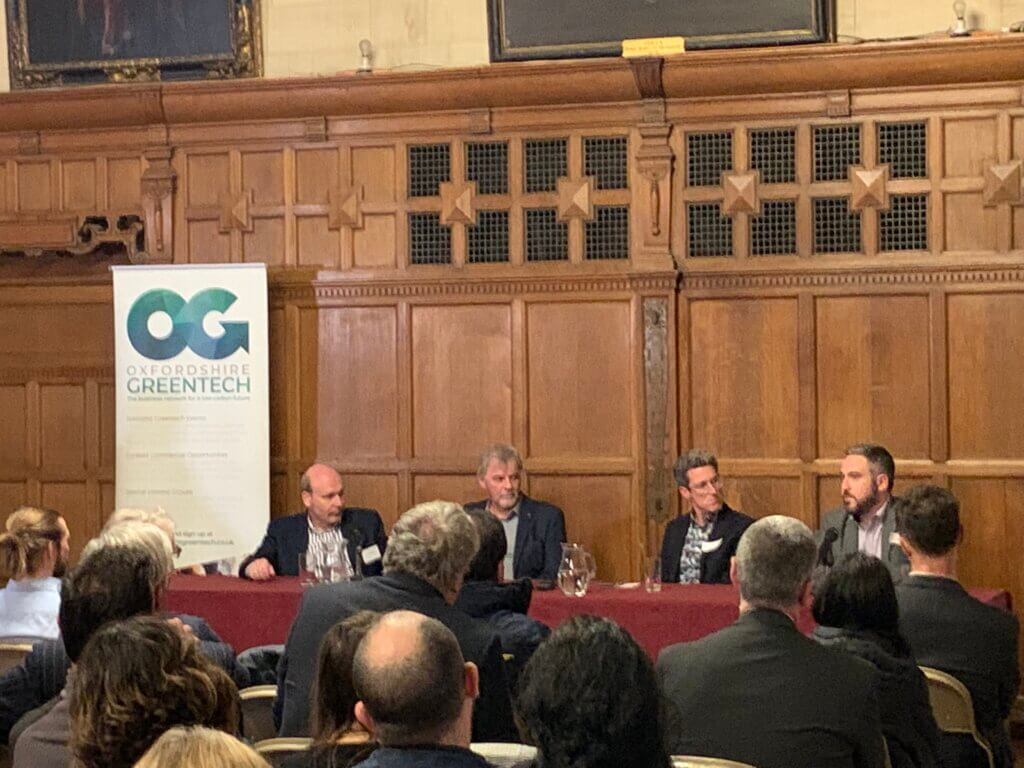 EP:50 is shining a light on a wide range of vibrant and dynamic projects in the built environment and communities, transport and infrastructure, and energy efficiency and demand reduction. The judges will also make a further award to a project which demonstrates exemplary standards of diversity and inclusion and embodies key aspects of the Energy Strategy.
The Energy Pathfinder awards currently has three categories and we heard from the four winners on Wednesday.
Decarbonising our economy is an enormous challenge, but Oxfordshire is one of the leading lights in clean growth.
In the wake of COP26, it was re-energising to find out about how Oxfordshire is taking pioneering action and delivering the zero-carbon economy that is so urgently needed. We cannot wait to see what these organisations achieve in 2022!
---