---
EcoSync is a cleantech scale-up business founded by Oxford University engineers in 2018 to stop empty rooms being heated.
It uses an innovative radiator valve technology linked to software to adjust heating in individual rooms and turn it down significantly if they aren't occupied. Demonstrated gas savings of up to 50% have been achieved in buildings where the technology has been installed.
EcoSync's cloud-based platform allows building owners and occupiers to adjust room temperature based on when the rooms are in use. The data is precise enough to even know if there is a window open or electric heater operating within a monitored room.
The EcoSync technology can:
Set times to turn the radiator on/off
Predict occupancy and the need for heating by synchronizing with booking systems
Increase building comfort and temperature control for occupants using in-room QR codes
Reduce carbon emissions and energy costs.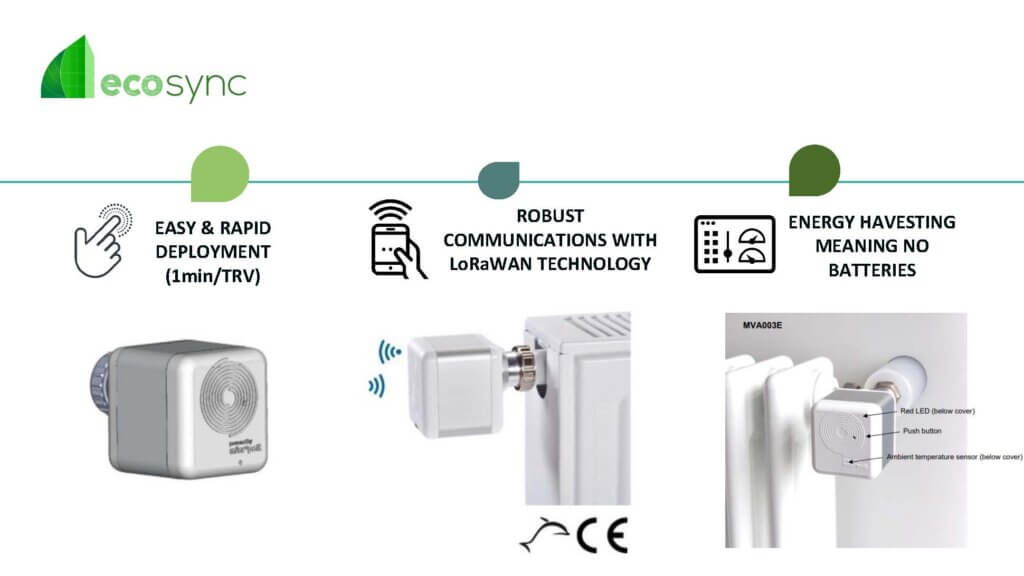 The radiator control technology developed with the help of our OxFutures GreenFund is non-invasive and simple to install. You can read our case study of the project here.
50%
Energy savings demonstrated
30%
Target emission reduction
The valves have already been installed in several Oxford colleges: Christ Church, Lady Margaret Hall, St Edmund Hall, St Peter's College & Corpus Christi, and will soon be rolled out in 100 rooms at St Hilda's. Below is a chart outlining the energy savings of some of the colleges that they have worked with.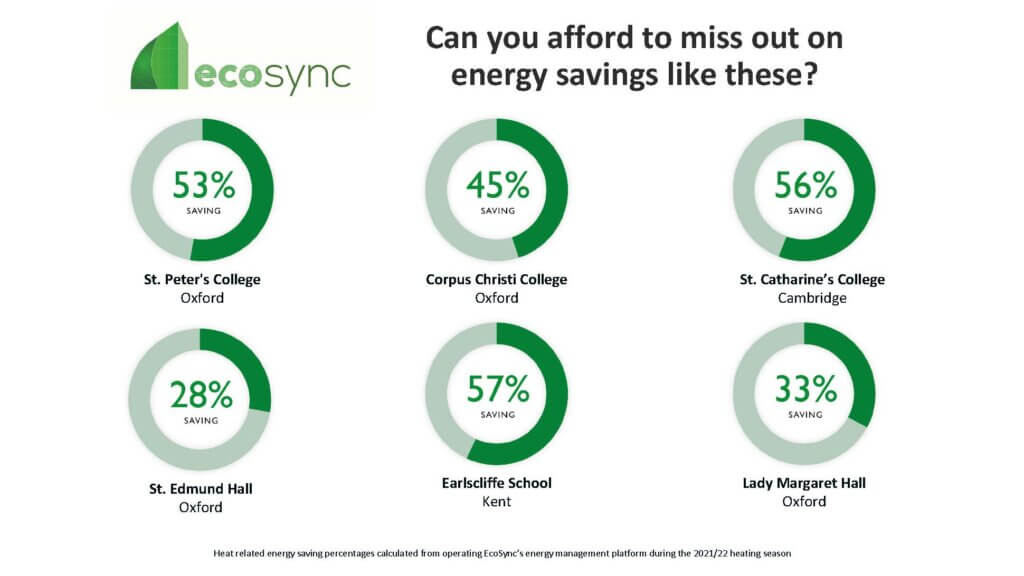 "After having the EcoSync system installed, we saw our gas consumption fall by as much as 66% in some periods, which far exceeded our expectations. It's made a quick and marked difference, saving us money as well as dramatically reducing our carbon footprint."

Bart Ashton, Domestic Bursar, Lady Margaret Hall
What's next?
EcoSync is looking to work with health centres, schools, and hotels, as well as further university colleges.
As of August 2022, EcoSync has started a crowdfunder (investment in exchange for shares in the company) which will be going live soon. You can pre-register your interest in the crowdfunder here. This will keep you informed and is not a commitment to invest.
If you want more information about EcoSync technology contact them via their website.