COP26 is here: what should you look out for?
The COP26 climate conference begins tomorrow, what is COP, why is it important and what should you be looking out for?
What is COP26?
COP26 is the 26th meeting of the Conference of Parties, aka the 26th year that governments, NGOs, trade unions, businesses, and everyone else with any interest in climate change meets to review and negotiate global action. Taking place from 1-12 November 2021 – delayed by one year due to the COVID-19 pandemic – the world is headed to Glasgow, Scotland, formally hosted under the UK Presidency.
Why does COP26 matter?
Six years on from the 2015 Paris Agreement, it's a key moment to take stock of progress, but also ramp up commitments alongside a clear plan of action for how the targets will be met in the short, medium, and long terms.
What is the Paris Agreement?
Adopted at COP21 in 2015, most of the the world's nations committed to containing global warming to well below 2 degrees Celsius, and preferably to 1.5 degrees. It was a major culmination of more than twenty years of diplomacy.

COP26 in Glasgow
COP26 is taking place from 31 Oct – 12 Nov 2021. It's an international climate conference but will have knock-on effects and opportunities at a local level. COP26 will be the biggest summit ever hosted in the UK.
The run up to this year's summit in Glasgow is the moment (delayed by a year due to the pandemic) when countries update their plans for reducing emissions. But that's not all. The commitments laid out in Paris did not come close to limiting global warming to 1.5 degrees, and the window for achieving this is closing.
The next decade will be crucial. So as momentous as Paris was, countries must go much further than they did even at that historic summit in order to keep the hope of holding temperature rises to 1.5 alive. COP26 needs to be decisive.
The UK Presidency has pointed to four main goals:
Secure global net zero by mid-century and keep 1.5 degrees within reach
Adapt to protect communities and natural habitats
Mobilise finance
Work together to deliver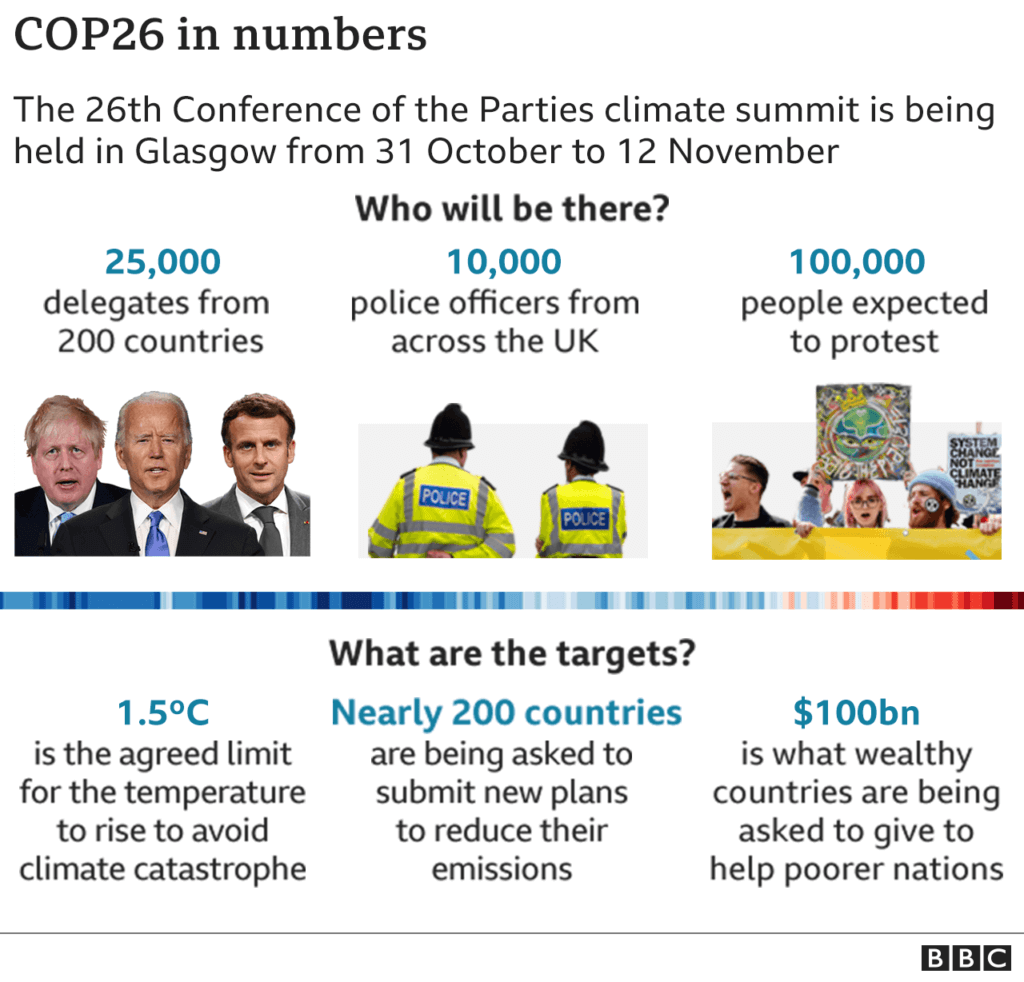 What should you look out for?
There will be many announcements made over the course of the two weeks. A lot of them are also likely to be very technical, including a lot of specific rules relating to the Paris Agreement.
However, some other announcements could include:
Making a faster switch to electric cars
Speeding up the phasing out of coal power
Cutting down fewer trees
Protecting more people from the impacts of climate change, such as funding coastal-defence systems.
Energy Monitor have said that the conference is an important opportunity for governments to provide business with both greater certainty and detail on their commitments to net zero.COP26 will see thousands of business leaders attend, meeting both each other and representatives from the public sector to gauge future policy signals and suss out market trends as the world shifts to align with net zero.
"Businesses should watch out at COP26 for outcomes which will give them some steer and certainty about the conditions in which they will be operating over the next few decades," says Kate Levick, from climate think tank E3G. "The current level of uncertainty about whether we will be able to take action fast enough is delaying investment and potentially creating stranded assets."
COP26 could have a huge impact on businesses feeling confident enough to invest further in measure to move towards net zero.
A full list of the events taking place over the next two weeks can be found a the following links.